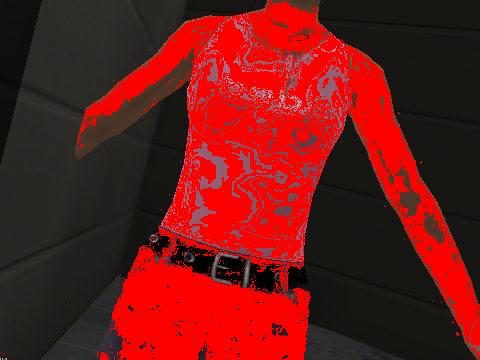 An artificial coloured victim recognized by the image-processing
RoboCup Rescue
Description
The assignment for the RoboCup Rescue Simulation League is to build an Multi-Agent Community for Rescue Operations in Simulated Systems. The Universiteit van Amsterdam has participated in the 2003 competition, both in Germany and Italy, and participate remotely in the Rescue Middle Earth competition 2004. In 2006, the UvA participated in the new Virtual League in Bremen, where they became 3rd. Additionally they received a prize for their mapping algorithm. Publications related to the Virtual League can be found at the wiki-site.

Our approach for the competition of 2007 is outlined in our SRMED workshop paper.
The competition
The provisional schedule of the competition will be as follows. The day reports are in Dutch

:. You can click on the maps to enlarge them.
June 30, 2007: arrival day
Result: Arrived
July 1, 2007: setup day
Result: Everything setup
July 2, 2007: mobility test at 14h30 and 16h30.
Result: driven 105 meter
July 3, 2007: mapping test at 11h30.
Result: Created small map with 2 victims

July 4, 2007: preliminary1 at 11h00.
Result: Created small map, with incorrect geometric transformation (6th)

July 5, 2007: preliminary2 at 10h30
Result: reported 1 victim at wrong location, cleared 240 sq. meter, explored 1135 sq. meter (3rd)

July 6, 2007: preliminary3 at 10h00
Result: combined map of two robots, large area covered, one victim found at right location.

July 6, 2007: SRMED symposium at 16h00, including presentation of our team.
July 7, 2007: Semi-final (UvA-Jacobs/Bremen) at 10h00 and 14h00
July 8, 2007: final (Steel/CMU - Jacobs/Bremen)
at 10h00 and 12h00 Runner up final (UvA/Amsterdam - SPQR/Rome) at 11h00 (17h00 West-European time).
Result: Deployment of 6 robots (largest deployment of the tournament). Only two robots can be actually used with some limitations, due to a very weak connection to the base-station.
The official results can be found here (20 teams were qualified):

Links

Theses
Arnoud Visser, "Measurement-Driven Simulation of Complex Engineering Systems", PhD thesis, Universiteit van Amsterdam (October 2007) (PDF)
Aksel Ethembabaoglu: Active target tracking using a mobile robot in the USARSim. Bachelor's thesis, Universiteit van Amsterdam (June 2007) (PDF)
Publications
See See the list of this year publications at Amsterdam Oxford Joint Rescue Forces website.