VR/AR in Education
Applications of Virtual and Augmented Reality to enrich learning
In education we sometimes find subjects and concepts that are difficult to teach using conventional teaching methods. These may for example be difficult to imagine, while others may be too dangerous or too expensive to study in real life. These subjects can benefit from teaching modules that use VR and/or AR as the way to communicate these subjects.
Here are some examples:
Development of the human embryo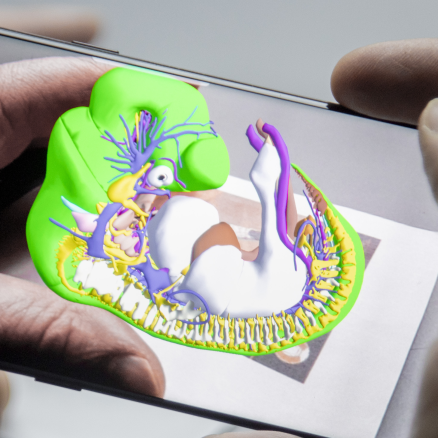 Using 3D models provided to us by the Department Medical Biology at Amsterdam UMC, we built an AR app to interactively explore the data from the 3D Atlas of Human Embryology. This application provides an unprecedented educational tool to study the development of the human embryo with little more than a modern smartphone.
Anatomy of a frog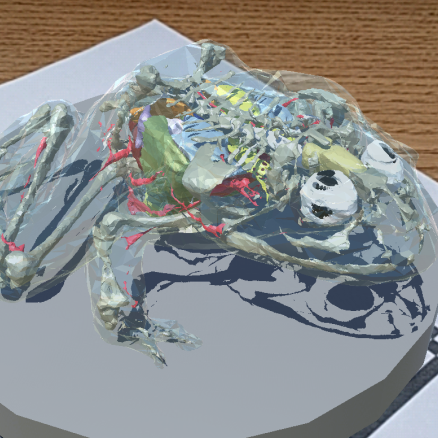 In one of the projects for my course on Scientific Visualization and Virtual Reality, I had students create an Augmented Reality app to study the anatomy of a frog, using the "WholeFrog" dataset. The objective was to create an intuitive application that would allow students to study the frog's anatomy using just their smartphone and a printed marker. The application had to have interaction facilities by which specific tissue types could be selectively made (in)visible.
Studying molecular symmetry in AR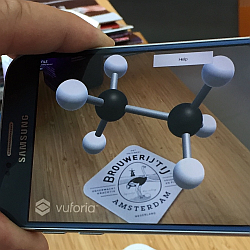 Molecular symmetry is a fundamental concept in chemistry to understand the chemical properties of a molecule. Conventional teaching methods use special notations to represent the spatial arrangement of a molecule, but these can be hard to interpret. Other methods use physical models, but these are not always available to students. For his bachelor graduation project in 2017, Rob Kunst developed an Augmented Reality application for smartphones that uses marker recognition to interactively explore the symmetrical properties of a molecule.
Learning to program in VR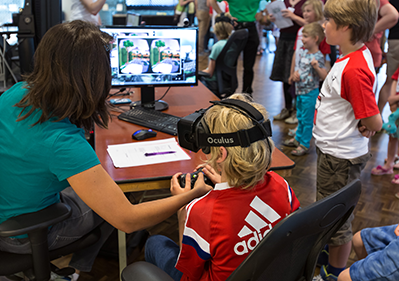 In 2015, Tessa Klunder created a VR environment for children to teach them the fundamentals of programming. The application put them in a robot placed in a virtual maze that could only be escaped by programming the robot to escape the maze. The children would solve increasingly more difficult mazes until they eventually implement the right-hand rule wall follower algorithm to exit any maze. (thesis)
Anxiety in Virtual Reality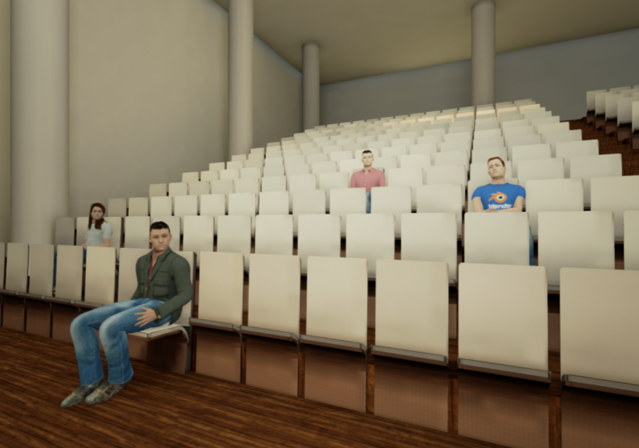 In 2015, Iulia Ionescu created a reproduction of the large lecture hall (C1.110) of the Faculty of Science at Science park. The VR application allowed her to place a virtual audience in the lecture hall to help train students with a fear of presenting in front of a large audience. Iulia compared the effect of her application on people presenting in the virtual lecture hall with those presenting in the real lecture hall. (thesis)